Digital Innovation & Business Planning (DIB) WT 2020/21: Application by November 20, 2020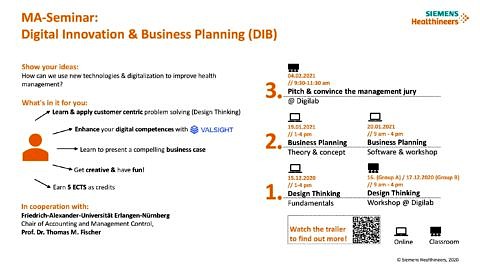 Please use the chrome browser if you experience issues with the video
Dear Master students,
we are pleased to announce the MA-Seminar "Digital Innovation & Business Planning (Applied digital controlling – from idea to business planning)" (5 ECTS) for winter term 2020/21 at the Chair of Accounting and Management Control (Prof. Dr. Thomas M. Fischer), jointly with Siemens Healthineers AG and Valsight GmbH.
The objectives of the seminar are to understand and apply innovative approaches in the context of digitalization of finance. In the Digital Lab of Siemens Healthineers on site (or remote), the students will be trained in customer-centric problem solving (Design Thinking), gain insights in fundamental concepts of Business Planning (incl. Valsight) and present their business case to the management jury in a final pitch. In addition, the participants improve their digital skills with the planning software Valsight, which enables a value-driver-based valuation of specific business cases.
The seminar has a volume of 5 ECTS and is assigned to the subject "Aktuelle Fragen aus FACT".
Take the opportunity to exchange ideas with management experts from Siemens Healthineers AG and Valsight GmbH and send the application form (incl. CV and grade sheet) by November 20, 2020, 12 noon at the latest, to christof.neunsinger@fau.de.
The number of participants is limited to 24 students.
The application form and further information on the seminar are available at:
https://www.controlling.rw.fau.de/lehre/masterveranstaltungen/digital-innovation-business-planning-dib/
Note: The rooms are preliminary. The seminar might take place in a virtual form only. Upon changes, you will receive our notice via the webpage.
We are looking forward to your applications and wish you a good start into the new semester!
Best regards,
Prof. Dr. Thomas M. Fischer and Christof Neunsinger