Successful conclusion of the cooperation seminar with Prof. Dr. Ralf P. Thomas (CFO, Siemens AG) in the summer term 2021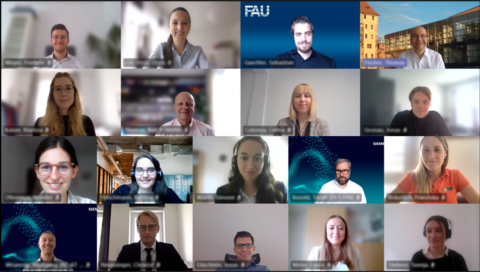 With the "Presentation Day" on July 2, 2021, Stage A of the cooperation seminar "Challenges in Business Management" with the Siemens AG in the Summer Term 2021 came to a successful conclusion.
All twelve student participants presented the results of their respective working papers to Prof. Dr. Ralf P. Thomas (CFO, Siemens AG), Prof. Dr. Thomas M. Fischer (Chair of Accounting & Management Control, FAU), Mr. Toralf Bezold, and other Senior Managers of the Siemens AG. The working papers discussed current issues in the field of "Crises Management & Development of Organizational Resilience in MNEs" and were prepared under the mentoring of their Siemens AG advisor.
The best participants of the seminar will have the opportunity to choose between an internship at Siemens AG or a master thesis in cooperation with Siemens AG (Stage B).
We would like to thank Prof. Ralf P. Thomas, Toralf Bezold, and the Senior Managers of Siemens AG for the remarkable cooperation and are looking forward to a successful future cooperation.